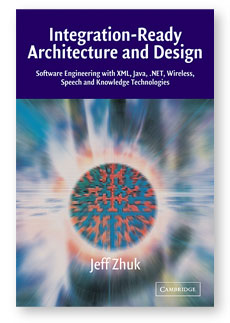 Enterprise Architecture Frameworks
TOGAF, FEAF, Zachman

SOA, Business Architecture & BPM
IBM, TIBCO, Oracle BPM and BASE

Business Rules and Semantics
DRools, Guvnor and BASE

SOA and Security

SOA Patterns and TOGAF Intro

J2EE Web Applications and MVC

Servlets/JSP in Theory and Practice

Struts-DataService-Semantic Frameworks | Spring | Hibernate

Portal Data Patterns

Liferay Portal: Intro | SDK | EXT
Hooks, Themes, Services | Enhanced

Using BEA WebLogic

Design Guide

Java Hints

SOA & The Next Step

---

From Book Reviews:

"This is the new road map for a new generation of students and specialists dedicated to the field of IT and computer information systems" - Dr. V. Genin, Plenipotentiary Representative of the International Academy of Higher Education in the United Nations, Chair of College of Business Management and IT at University of Phoenix

"This book brings software engineering newbies as well as experts in this area up to date with the latest technologies, software scalability, and integration issues. It will definitely help us create a bridge between software engineering and knowledge-based technologies" -Professor V. O. Safonov, Ph.D., head of the laboratory of Java Technology, St. Petersburg University, Russia

"An impressive attempt to re-define software and knowledge engineering for the "post-dotcom" era." – V. Kaptelinin, Ph. D., Department of Informatics, Ume University, Sweden

"The book is a brilliant synergy of theory and experience. Filled with fundamental concepts together with innovative and yet very practical approaches to modern software engineering, it answers the most important questions of today and allows us to look into the future." – A. Nozik, General Director, Specialized Engineering, Integration, and Automation Company, SZMA

"Broadly relevant and applicable, what a useful book... I really appreciate the book. I'm surprised how relevant it is to the work that I'm now doing in knowledge management and information systems architecture. Also, I've enjoyed how many of my favorite quotes are. What impressed me the most was your ability to address a range of audiences, from conceptual introduction to practical coding, all in one book. That helps my exec clients and code warriors all start to speak a common language. Thank you." - BookPool.com review

"This book was very solid technically, and a fascinating read. On the development side, it is filled with ideas and examples, some of which showed me completely different approaches to common problems. Conceptually, the book is even richer, not only explaining complex technologies in simple ways, but showing how some seemingly unrelated technological developments from the past few years can fit and work together. Overall, I think the book's most worthwhile aspect is the way it married its overall vision, which anticipates the future of integration and knowledge-driven computing, with very specific design and code examples that I could incorporate into my practice right away. A top book for people who want to stay ahead of the pack in the latest practical developments that will shape information architecture for the future. - Amazon.com review




Software fundamentals today and tomorrow

JavaSchool.com features an extensive list of publications on the Internet, big data, mobile and semantic technologies. We offer a series of books and articles containing the latest information and assessment of software development and app design processes. Our training materials reflect the best practices that we and other companies shared in the publications and conferences.